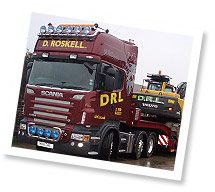 DRL Haulage can manage anything from abnormal loads up to 41 ton gross with our 64" extendable lowloader to general haulage.
DRL Haulage consists of Tractor units, Extendable Lowloader, Tipping Trailers, Flats, Tautliners and Rigid Tippers.
DRL have a National and International Operators Licence.
Our haulage fleet is available for hire, for further information please contact us.

DRL are members of the Road Haulage Association.