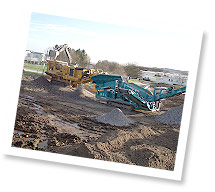 As the DRL Group are environmentally friendly we have recently invested in Crushers and Screeners for the recycling of various materials.
We have screening machines from Extec and Powerscreen and crushing machines from Terex Pegson and Extec.
We have smaller crushing equipment from Meccanica Breganzese crusher buckets and Allu processing buckets.
Materials that we recycle range from concrete, rock, glass, sand, kerbs, slabs, asphalt, topsoil, demolition waste, iron ore and coal.
This machinery is available for hire throughout the UK, for further information please contact us.

DRL are members of the Construction Plant Association.